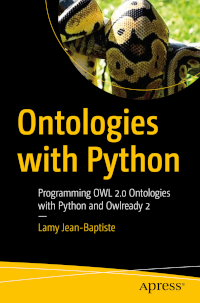 Jean-Baptiste Lamy
Apress Editions, 350 pages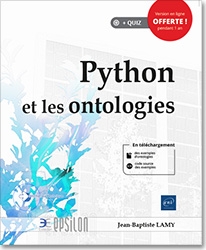 Jean-Baptiste Lamy
ENI Éditions, 310 pages
Owlready2 is a module for ontology-oriented programming in Python 3.
Owlready2 can:
Import OWL 2.0 ontologies in NTriples, RDF/XML or OWL/XML format.

Export OWL 2.0 ontologies to NTriples or RDF/XML.

Manipulates ontology classes, instances and properties transparently, as if they were normal Python objects.

Add Python methods to ontology classes.

Perform automatic classification of classes and instances, using the HermiT or Pellet reasoner (included)

Load DBpedia or UMLS (for medical terminology, using the integrated PyMedTermino2 submodule)

Tested up to 1 billion of RDF triples (but can potentially support more).

In addition, the quadstore is compatible with the RDFlib Pyton module, which can be used to perform SPARQL queries.

Finally, Owlready2 can also be used as an ORM (Object-Relational mapper) -- as a graph/object database, it beats Neo4J, MongoDB, SQLObject and SQLAlchemy in terms of performances (see Benchmark)
Owlready2 has been created by Jean-Baptiste Lamy (my email is on the left) at the LIMICS reseach lab, INSERM UMRS 1142, Université Sorbonne Paris Nord, Sorbonne Université. It is available under the GNU LGPL licence v3.
If you use Owlready2, please cite the following article:
Lamy JB. Owlready: Ontology-oriented programming in Python with automatic classification and high level constructs for biomedical ontologies. Artificial Intelligence In Medicine 2017;80:11-28